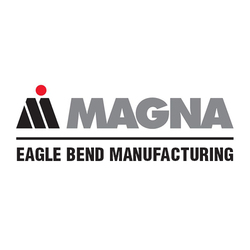 Assemblers
Sorry, this job has expired.
Clinton, TN
Magna Eagle Bend Manufacturing has immediate openings for Assemblers in Clinton, TN. Positions are for 2nd & 3rd shifts.
Magna is one of East Tennessee's Highest Paid Employers.
Experience Assemblers earn up to $15.86 an hour
Now offering a $1,000 Sign on Bonus
Excellent benefits after 30 days
Responsibilities:
• Perform basic assembly of components and sub-assemblies
• Operate resistance spot weld machines to assemble products
• Perform basic safety inspections on equipment and record data
• Complete SPC - Statistical Process Control checks and charts are required
• Weld destruct testing and recording of data
• Basic machine maintenance/weld tip charges
• 100% visual inspection and packaging of product
• Operate machines at optimum efficiency to achieve acceptable rates
• Tagging and labeling containers per the work instructions
• Housekeeping and other activities as assigned
Apply in person Tuesday - Thursday from 9am to 1pm No appointment necessary.
• High School Diploma or equivalent

48880811