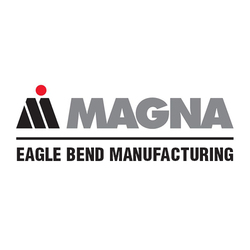 Forklift Drivers
Clinton, TN
Magna Eagle Bend Manufacturing has immediate openings for Forklift Drivers in Clinton, TN. Positions are for 2nd & 3rd shifts.
Magna is one of East Tennessee's Highest Paid Employers.
$18.98 an hour with 2 years of verifiable employment.
$16.44 an hour with less than 2 years experience
Now offering a $1,000 Sign on Bonus
Excellent benefits after 30 days
Key Qualifications/Requirements
Required: Must have proven experience or a forklift operator's license.
Required: High School Diploma or GED
Preferred: Knowledge of dock locks and dock plate set-up.
May be required to be Dock Certified by Safety, depending on work area.
Must work well with others. Must have good communication skills – both verbal and written.
Must have good math skills.
Must have the ability to work with minimal supervision.
Apply in person Tuesday - Thursday from 9am to 1pm No appointment necessary.
• High School Diploma or equivalent

48880806